Okay we are a little late, I got other ish to do, but I will do my best to make sure I stay on top of these types of things like deadlines. The original post date of this story was oct 15,2008. But, saying how i don't work for myself all the time, my art has been delayed to allow others to flourish-damned fate and time. Enjoy!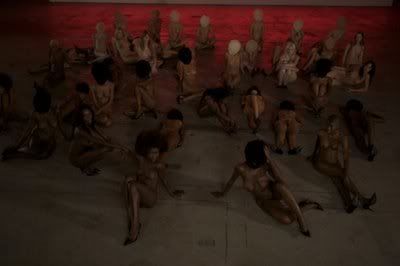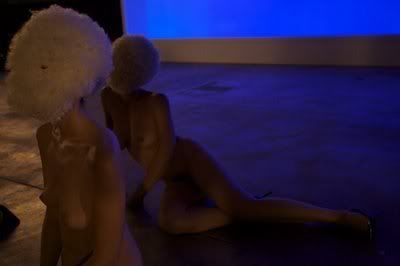 I normally don't go out on Tuesday nights that are cold, but this time I decided to make an exception for my prized buddy on the other end of the invitation to where?
We walked into a warehouse filled with about a hundred or so expressively dressed people and a very crowded bar placed in front of a set of port-o-potties.
*Classy.*
After a trip to the open bar, we decided to mingle with the fused crowd of Los Angeles hipsters and music executives. There was a tremendous afro to my left sitting atop a petite animal print clad young woman trying to figure out where to put her empty glass ,because it was an open warehouse with no tables except for the bar station itself.(I sent her a good luck with that look). Too my right the great Will.i.am in an outfit you would expect to see him in, right down to the scarf and gold glasses.
*Chill.*
After grabbing yet another spritzer . I followed the pack of hipsters up a concrete ramp to the second level of the warehouse, where we walked through black curtains only to stumble on a dark room lit from the back by a glow of a bright blue light square on the wall.(It was very alien abduction of him to have this light.)
What was it this light was there for??????
Oh, of course, To light up the platoon of beautiful shadows standing fully nude in the middle of the room. Aw hell, Kanye has a team of around twenty-five beautifully naked women in stiletto pumps standing tall and proud in the middle of the circle of onlookers. Now we were all interested, wtf?
It was a very artsy feel in the house that night as Kanye's newest album ___ , rocked the house. Sort-of. The album was cool ,I guess it wasn't bad. It wasn't really music. It sounds like trendy alien music. But, then again I am pretty over the auto-tune thing on songs lately. It really does not help people who can't sing sound better, just a little more or less annoying, in Kanye's case definitely more. Of course it came with all the strings of Kanye West. It definitely rocked. I mean it literally rocked it was more of a rock album than anything else.>>>>>>>> AlieN RoCk!!!!
As the album played in the dark room with the blue light now pulsing and rotating to other basic colors. (I.e. red, green, blue…). The artistic goddess shadows in the middle of the room slowly started to wilt to the ground. (I understand girls pumps ain't no joke). I looked around the circle to see the reactions of the crowd. Not many dancers besides Kanye's fan club to the rear of me. O wait it's just Jay-Z, plus security (pretty skimpy fan club on the tracks Kanye). There were some sketchy looking writers in trench coats, the executives were doing the fake head bounce, and the groupies were jammin' cause they were buzzed. That's about the circle, I mean it was dark. I think I got a glimpse of Mos Def and Jimmy Kimmel, and Ta$ from S.A.R.A, but I could be mistaken (Of Course I am not).
Wow so this was nice, is all I was thinking as someone lit up something rather dank somewhere in the room. Just when I was going to leave and go light something dank of my own, Kanye himself comes out and tells everyone about 18 times to please be quiet. Finally, he gets an acceptable amount of silence to begin his what seemed like the longest monologue ever about how awesome he is,ow much he loves art and thanks to collabo artist Vanessa Beecroft, how much he misses his mom, he shouts out T-pain(the king of Autotune)and the Autotune program itself , tells everyone to do what you do when you are a child (this is supposed to be the explanation of the full Autotune album, the sound is fun and reminds him of being a child, riiiiiiiiight), and through it all keeps mentioning his love for naked women.
Point of the night: Kanye made a singing album!!! Might be a little racist? (as the ladies in his art exhibit were lined up with the white girlz in the back?) I mean it was dark. Who knowz...
I am ready for the
808s & Heartbreak
album, set for release November 25.
Official media takes on the night aka (the dry version):
From

Rolling Stone


from

Fader
Bionic Puzzi