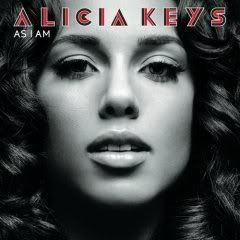 Okay so I know that Alicia Keyes released her album a little while ago.But, who is to say I cannot send out my own thoughts and worship of this amazing goddess. Well with all of my love and praises it is definitely appropriate for me to say this album of hers was the worst she's come up with.Now please remember people Alicia Keys is on the list of most legendary musicians ever so, her short comings are still much higher than most her worst is still on my BEst List of Albums. Obviously,I didn't hate the album it's just not my favorite. I feel like the songs were amazing and well written, etc, but the soul on the CD as a whole was not the most satisfying after listening to her first album
Songs in A Minor
and her Sophmore album
The Diary Of Alicia Keys
.This album
As I Am
is still an awesome album.It reminds me of when Stevie Wonder thought it would be okay to change his style a little, yes I know it was hard for us all, but we still loved it.
As I Am
definitely reflects Alicia's growth as a woman. Maybe I am a little biased about the whole maturing thing because I have been working on that evolution myself. Without all my womanly moodiness I still get down on my knees and bow to this goddess of realness. Revolution Smooth!!!!!?!!!!
Bionic Puzzi
My Album Love List:
Like You'll Never See Me Again <------- Love the Love Songs
SuperWoman <-------- So Empowering
Lesson Learned------- Love John Mayer
The Thing About Love <-------- Sounds super Beatles inspired, but ya know best song to be sad about any type of Love to.
src="http://pagead2.googlesyndication.com/pagead/show_ads.js">